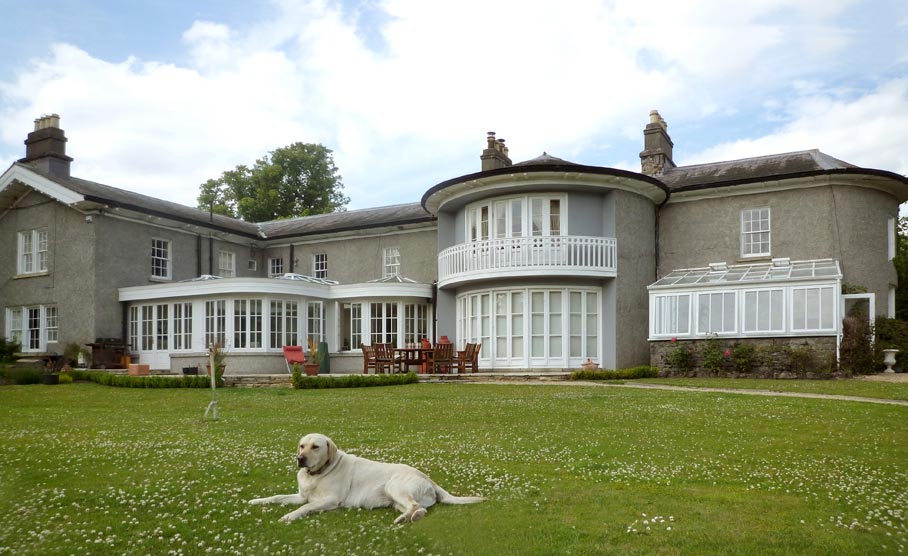 H
and crafted, our hardwood Orangeries and Conservatories are manufactured in the Royal County of Meath, and installed throughout Ireland and the UK. All of the Orangeries we build are to a very high specification, and insulation is one of the key factors considered. Excellent u value performance can be achieved using an Orangery extension. Strategically placed roof lights are often triple glazed with high performance glass. They are positioned carefully within our design concept to admit controlled Natural Light. Adjoining rooms must also be taken into account.
Light should be carefully protected in sensitive areas of these existing rooms. Some opening windows are just not good enough! Ventilation is a vital part of a successful Orangerie or Conservatory. We ensure that we have an effective ventilation plan for every project we undertake, without exception. 'Antique' glass can be used in a modern double or triple glazed unit giving an authentic look but with the most modern thermal insulation. The typical low profile roof which is a feature of many of our Orangerys can be a useful design aid when first floor windows views need to be protected.
As with all our glass structures heating your orangery most be considered carefully. We can advise on the options and will assist in finding the right solution for you. Our 'turn key' option normally includes heating services. An Orangery is an opportunity to extend living space towards the garden and create a really special place. When properly designed and implemented this concept can truly transform your home. We look forward to sharing our experience and discussing how it can work for you.
Contemporary Orangery
Our client contacted us originally with a view to upgrading the Norman Pratt conservatory which stood for over 30 years on this spot. When we understood fully the clients priorities and expectations we recommended a complete re build.
An Orangery would provide the insulation levels necessary to allow an 'open plan' scheme to work. Passive u values were achieved throughout, including the triple glazed roof glazing. A natural gas fireplace created a stunning focal point for the room. The entire kitchen and orangery are used as one, flooded with controlled natural light all year round.
Traditional Orangery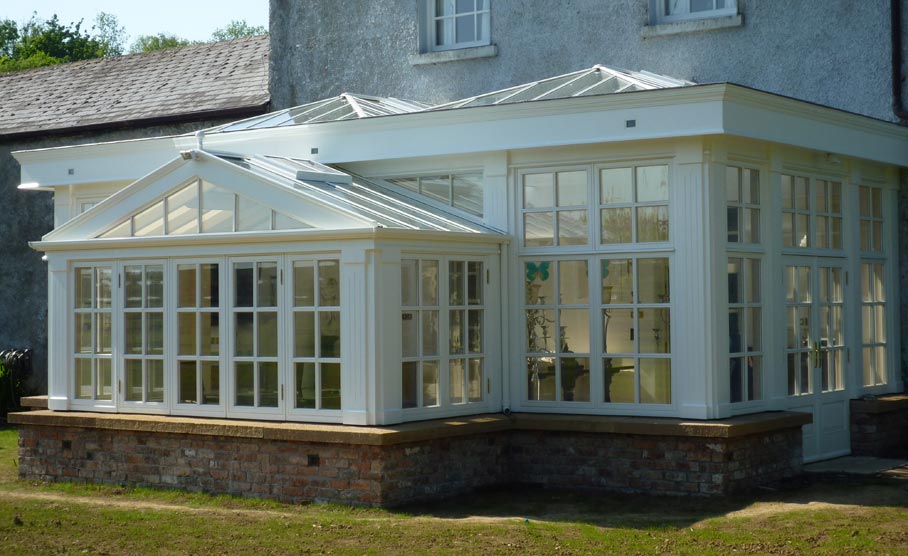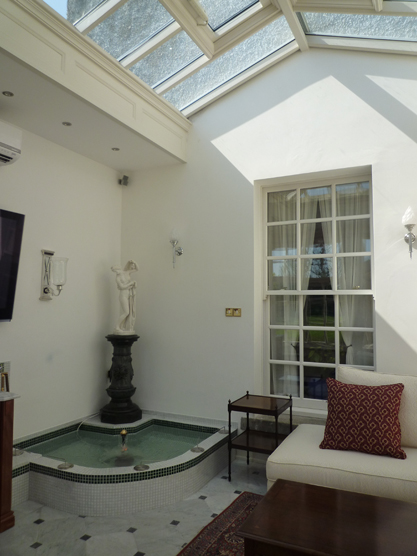 Our client commissioned this large Orangery to extend an already large kitchen. Some important priorities soon emerged. Views of the countryside would be important and the south facing aspect was to be harnessed fully, but without the disadvantages associated with south facing conservatories.
Natural light must be controlled to be enjoyed. Glare and over heating were to be eliminated. Insulation would be a vital ingredient, and a more than adequate heating plan agreed. High tech sound, vision and even lasers were to be built into the structure. No traces of equipment or wires were to be seen.
Finally, the construction programme must be efficient with one company responsible for ensuring quality of build, and that deadlines were met. A wonderful project, our team thoroughly enjoyed getting to grips with this challenging brief. Everything was completed on time and was deemed a great success by the owner.
A kitchen Orangery
provides extra space, just where it is needed. A large opening was created, extending the kitchen dramatically. The new orangery accommodates a dining table and a new fireplace. In these 'open plan' designs insulation, heating and ventilating must be planned carefully.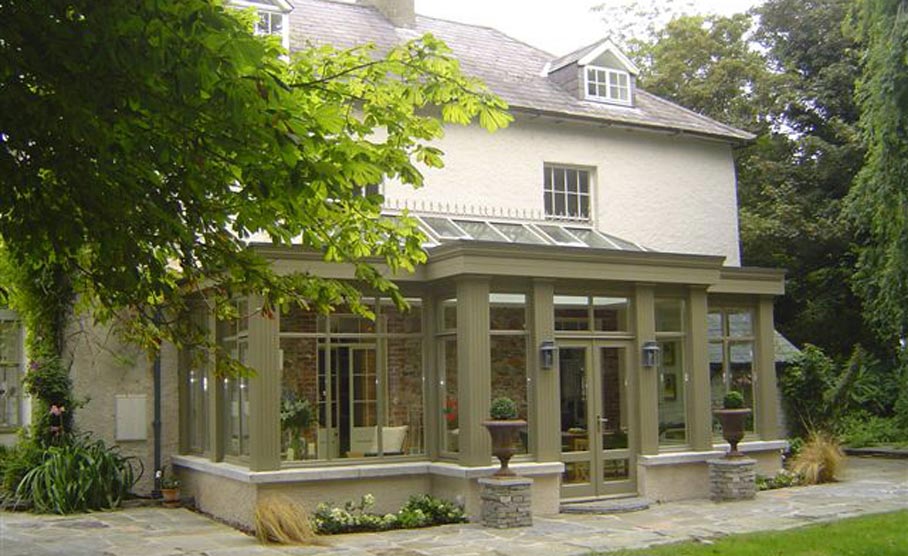 L
ight streams in through the roof lanterns and the corresponding high Georgian windows. The owner finds that this transforms a previously dark and cold kitchen and sitting room Into a warm and well used space.
O
ur client set out to extend, an already mature property. The priority was to achieve this without harming the integrity of this important family home. The result blends in well. The highest compliment was paid recently when a visitor thought the orangery was part of the original building.
Characteristics and origins of the Orangery
A
n orangery is a garden room which is rich in carefully controlled natural light. It will typically incorporate more solid elements in the walls and roof when compared to its sister building, the better known conservatory.
Its roof is likely to be of a lower profile and it may have distinctive columns, pilasters and elaborate fascia details. Originally found in the most fashionable gardens of renaissance Italy the Orangery was used to 'winter' delicate Citrus and Lime trees.
This soon developed to include other varieties of tender plants and shrubs and more exotic plants including Banana trees and pomegranates. By using glass to extend the protection and warmth gained from a brick wall the orangery soon proved to be an invaluable component of the grand homes and gardens
The early classic orangery used glass sparingly as it was a very expensive commodity. When glass making technology improved larger glass sizes became available allowing larger and more elaborate structures to be built.
In the cooler Northern regions the Dutch were prominent in developing the concept, introducing more glass and in particular more roof glass. Sloped glazing in the roof dramatically increased Passive Solar heat gain.
This in turn created a demand for the orangery to have opening vents in the roof for ventilation, effectively creating micro climates for the propagation of ever more exotic plants.